Air Duct Cleaning Robot for HVAC-systems
Ideal for cleaning HVAC-systems with sizes from 500 up to 1000 mm, round and rectangular.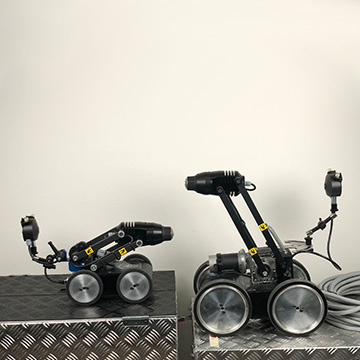 Air Duct Cleaning Robot
The perfected technology is an innovative brush cleaning robot for inspection and cleaning of HVAC systems with a size from 500 to 1000 mm, round or rectangular.
Equipped with the possibility of recording the work by means of video grabber and laptop. The robot is controlled by cable, manually with a joystick and the cleaning can be observed simultaneously through the monitor. A perfect tool for cleaning and inspection of HVAC systems!
Video inspection and brushing machine for Air Ducts
2 cameras HD color front and rear view
Rotation clockwise and counterclockwise
Stepless height adjustment electrically
Total cable length 23 m
Strong brush motor
Video cameras: 2 x color camera HD 9″ switchable front and rear view via control panel
Brush motor: Electric 24 V
Brush arm height adjustable: Electric 24 V
Brush speed: 480 RPM
Noise: 50 dB (A) to ISO / CD 15 744
Operating voltage: 230 V / 50-60 Hz
Robot control: Joystick
Direction of rotation: right / left switchable
Brush connection: Quick-Action chuck
Height: 350 mm
Width: 280 mm
Length: 490 mm with brush arm in the lowest position
Electric motor drive (fuse): 24V DC (5A)
Electric motor brush (fuse): 24V DC (10A)
Electric motor brush arm (fuse): 24V DC (10A)
Cable length: 23 m
Drive: 4-wheel system
Robot housing: Aluminum
Transportcase (2 cases): Stack-able aluminum mobile 
Indicator lights: Yes
Emergency stop switch: Yes
Max. brush size: 1000 mm